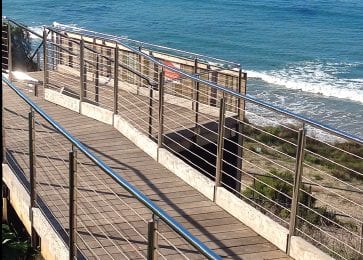 Click Here for:  Configurations
Stainless Steel Wire Systems:
Stainless steel wire balustrade provides a modern and stylish finish which may be installed stand alone or in a combination with timber posts/handrail or glass. We offer everything you need to create a stunning stainless steel wire balustrade. Produced by a single manufacturer with 25 years or production excellence. Consistency of quality assured. Electropolish process improves corrosion resistance and provides a shiny and smooth surface. Extra ultrasonic washing step to ensure the brightest wire finish.
Tip: Staircase Installation:
For ease of installation due to versatile angles, using the rigging screw and fork terminal fittings is a good solution coupled with saddles or eye screws at each terminal end. The rigging screw and fork terminal can swivel to the exact angle needed.
Below – Videos Of Example Instsllations
Machine Swaged Wire Installation
Display 100 Products per page