Description
Colorbond® Screen Topper – Side Frames & Infill Panels
Screen Topper Installation Guide
A contemporary addition to sheet metal fencing systems, the Screen Topper has been designed to provide an easy to install horizontal slat that is placed above the sheet metal fence panel finish height.
Screen Toppers is an attractive alternative to the current lattice infill. Screen Topper provides a stylish finish in line with current architectural trends, allowing for a seamless blend between a front horizontal slat fence and side boundary.
Due to the unique framing system and extended legs, the three slats easily slot into the side frames, which are designed to slide down between the post and capping rail making an easy install. If required, you can place a capping rail on top of the screen topper if side posts have required height.
Additional benefits include:
Increase the height of the fence
Can be installed on existing fences allowing customers to upgrade their current boundary fence at little cost.
New market: can be mixed and matched to compliment other major brand sheet metal fences such as Colourbond, Good Neighbour etc.
Easy to install for DIY customers
Kit Includes:
3 x Pack of Slats – 65 x 16mm x 2400mm wide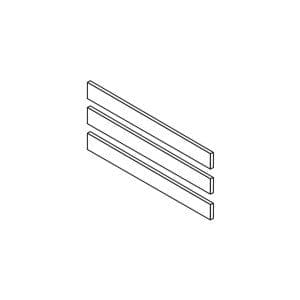 2 x Side Frames – 250mm High (12.5mm spacing) & 2 x Side Frame Top Caps