Stocked In Brisbane, Melbourne & Adelaide Only
Aerocrete is a solid wall fencing system designed to provide the look of a solid block wall fence in a modular assembly format with no requirement for continuous strip footings or a brick/block layer.
The Aerocrete panels inner core consists of a matrix of composite aggregates of concrete and polystyrene balls to create a lightweight panel. The panels are moisture resistant for ease of finishing and additional strength is added by laminating 5mm thick fibre cement sheets to each side of panel. A groove on the bottom and tongue on the top ensures easy installation and true alignment.
IMPORTANT NOTE: Most fibre cement sheets are mixed with quartz stone to lighten their appearance. the disadvantage of this is it also reduces the strength and density. To ensure quality and strength of Aerocrete, we have used a stronger core component of cement based fibre board.
Why Is This Product So Good?
Half the cost of a traditional block wall fence. Fast & Simple Installation – 7 times faster to install than a solid block fence. No prior council application or approval required like it is for solid wall block fence. Still provides that premium look of a solid block wall. Product is strong and rigid while light weight – amazing lateral load. Does not require a continual footing to install. Highly resistant to mould, moisture and mildew. Width adjustable and able to be cut to suit sloping properties (Aerocrete can be cut with a handsaw). High Fire Resistance. Has outstanding acoustic properties (perfect for a front fence). Minimal components to install. Complete system – Designed to easily fix to pedestrian gates. Durable and long lasting – Concrete based matrix can take all kinds of knocks.
Click Here To Watch Full Installation Video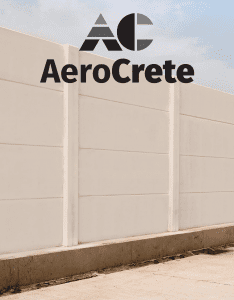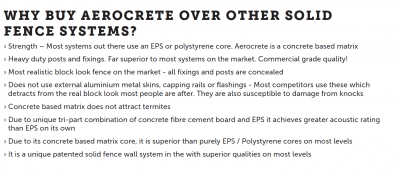 Display 100 Products per page